INTRAC takes over distribution for Hardi International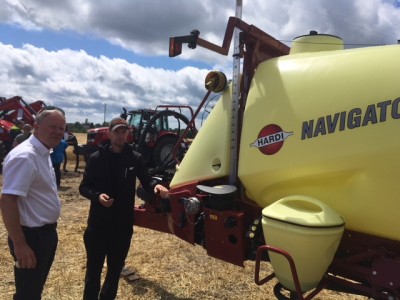 The INTRAC companies further strengthens its program for farmers in Estonia and Latvia. Effective 1 November 2018, Sales and Support for the Hardi products will be exclusively handled by INTRAC Eesti in Estonia and INTRAC Latvija in Latvia while the marketing of Hardi range is started with immediate effect.
"We are step by step developing the product portfolio we offer the farmers in our region, and have for some time been looking for a producer of quality sprayers. Accordingly we are very pleased to now have an agreement to represent Hardi International in Estonia and Latvia – this will enable us to serve our agricultural customers here even better," comments Fredrik Brandhorst, Marketing Director at INTRAC Group. "Hardi has a proven track record of producing quality products for the modern farmers and Hardi then fits very well with our present product offering in the market."
Hardi International Area Export Manager Mr. Ole Karlshöj Sörensen adds, "By appointing INTRAC as exclusive distributor for Estonia and Latvia we will further strengthen our sales and support network for farmers in the two countries."
Hardi International is a Danish producer of top quality field sprayers ranging from lift-mounted sprayers, trailers and self-propelled models. As a sprayer specialist Hardi exports to countries in all continents of the world. It is Hardi´s goal to satisfy the user's requirements for quality - ensuring efficient, punctual and precise application of crop protection products. About 95% of the products are sold outside of Denmark through subsidiaries as well as importers. Hardi is part of the French Exel group.
Back