INTRAC opens new service center in Vilnius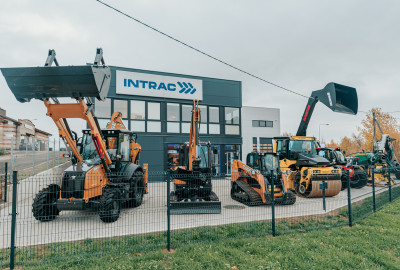 In middle of October INTRAC Lietuva moved to new customer service centre at Usos Street 2 in Vilnius. Equipped with a range of state-of-the art equipment, the facility includes workshop, repair centre, machine washing area, spares storage and offices. The new Vilnius office is the newest of INTRAC's 13 locations strategically located all over the Baltic states.
"With this new facility, we now can offer our customers in the Vilnius region an excellent parts and servicing experience for their machines," said Carl Leijonhielm, President of INTRAC Group AB. "We now have three parallel service channels simplifying much of workshop logistics. Accordingly this allows us increased flexibility and efficiency, reducing wait times for our customers and increasing the volume of machines we can handle. Moreover the closed washing bay inside the workshop improves the service offering."
The centre's main workshop spans 450 sq. m, with this being supported by a repair and tool shop that is 500 sq. m. With a 12 tonne crane all types of needed mounting or dismounting easily can be managed and the workshop can serve eight heavy line machines at the same time.
"The washing area is particularly important" continues Leijonhielm. "Our customers' machines are made to be used off road and not seldom in quite demanding working conditions, meaning they are often covered in mud and even ice when they arrive here thus a thorough washing is often required before any repairs can be started. Supporting this is our exhaust ventilation system, allowing machines to be routinely tested for safety and performance indoors. We are convinced that this new investment leads to further growth for INTRAC Lietuva, and we are prepared for increased demand. With 29 of our 60 Lithuanian employees stationed in Vilnius and at this facility means we are poised to deal with this growth," he concluded.
The Vilnius facility is one of three new INTRAC premises opened in Lithuania during the last five years, with the other two located in the cities of Panevėžys and Kaunas. Since before there was also one big workshop in Klaipeda covering the western part of the country.
"This facility represents an exciting new development for both INTRAC and CASE," said Anthony Bouvié, Business Director Northern Europe, CASE Construction Equipment. "We know that both the company and its customers will hugely benefit from the service centre's new capabilities, meaning CASE machines can be back out on jobsites much quicker than previously," he concluded.
Back