INTRAC Latvija awarded in Paris by CASE Construction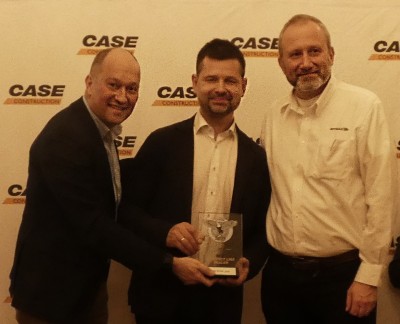 INTRAC Latvija was awarded during the European Dealer Conference in Paris for being best Compact Equipment Dealer 2017 in Northern, Central and Eastern Europe. Ravshan NADIROV, Network Development Manager presented the winner: "INTRAC has showed a relentless fight in highly competitive market and trippled the Compact line volume and doubled the Compact line market share from 2016 to 2017. The INTRAC team is very dedicated to CASE Construction, including the Sales Manager who now is on the CASE account since 18 years. INTRAC has moreover exemplary service team motivation, management and retention program and is committed to a transparent and open cooperation with CNHI. The INTRAC CASE sales team also shows great activity in tenders and has delivered CASE equipment to Latvian Army and Universities."
The award was handed over by CASE Construction Equipment Global Brand President, Mr. Carl-Gustav Göransson (left) to Sales Manager Mr. Ints Lazdins (middle) and INTRAC Group President Mr. Carl Leijonhielm.
Back